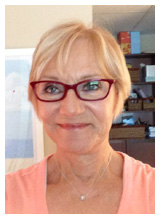 Robyn is a Licensed Clinical Professional Counselor and certified addictions' counselor with CADC and MISA II certifications and has almost 20 years of experience as a mental health professional. She uses a broad array of therapeutic approaches, with a significant focus on ACT (Acceptance and Commitment Therapy).
ACT is an evidence-based behavioral therapy that is rapidly gaining recognition as an approach that seems to create positive outcomes across a broad range of clinical and life issues. Its basic premise is that we can't force our thoughts and feelings to change, yet we can still create behavior change by acting in ways that are consistent with our core values. In other words, we don't have to wait to act until we think or feel better, we can move forward productively right now!
Along with her role as a therapist, Robyn has more recently received certification as a Board Certified Coach. Adding coaching to her already extensive experience allows her to meet her clients at all stages of their personal journey and provide powerful tools and support.
Thru all of Robyn's work run two powerful threads: first, that life is an amazing adventure, and it's beckoning to us 24/7–we just need to pay attention and give it a chance; and second, that we are so much more than we allow ourselves to imagine.
Call Robyn at (630) 220-9223 or email her at robyn1001@comcast.net