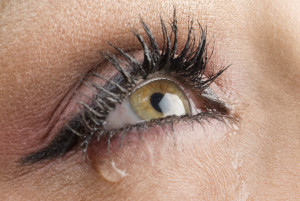 April 20, 2016
One of my dearest friends in the world had this to say in the way of instruction for her memorial service.  "I don't want a dry eye in the house when they play Iz's 'Somewhere Over The Rainbow'."
She got her wish.  We bawled our eyes out.
I've since realized that's my wish for myself as well.  I want to let the tears flow as I feel my way through the world.  Sometimes it takes everything in me not to weep with gratitude when I remember to let my physical senses experience the miracle of being alive.  Why do I do that … decide to hold back the tears?
If you're outside, stop!  Is the sun warming your face?  Can you feel the wind in your hair?  Hear the leaves making quiet music?  I wonder if ants make noise?  If you're inside can you feel hunger in your belly, or the sadness or joy in your heart? And most of all, wherever you are, can you feel the fire and passion in your soul that's just waiting for you to give it some room?
So I'm with Joyce about not wanting a dry eye in the house.  But I'm applying it to myself as of today.
I'm going to try to use up all my tears before my memorial service:  laugh till I cry tears; tears of regret that I didn't give you what you needed, or say what you wanted to hear; tears of frustration as I think about something I'd like to strangle you for.  The kind of tears that remind me I'm alive, and that allow me to connect with the world, and everyone in it, with a little more heart.  Because that's what hearts are for, to be used up.
If this resonates, I'd love for you to like or share it –  can't we all use a good cry!?
Much love,