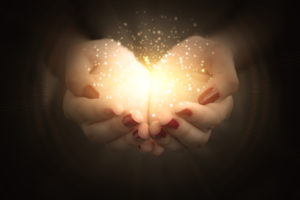 March 10, 2019
 "If I were to scratch below the surface of anyone I would find fear, pain, and anxiety running amok" – Charlotte Joko Beck
We all have ways to cover up what makes us feel uncomfortable. We overeat, overdrink, overwork, over-talk, watch too much television, make life into an endless project, stay glued to our phones, seek ultimate enlightenment or at least an enlightenment 'experience' or 'the answer', and my favorite, transfer our discomfort onto someone else.
I had a situation recently where I accused someone of asking me a question that of course they should have known the answer to.  Clearly they weren't 'seeing' me.  I was invisible.  How could they ask me that if they really knew me?!
The problem was that it was a completely innocent question that I plopped on top of a history as a child where I often felt invisible – an extension of my parents' feelings and wants – not seen or heard as a separate, unique human.
Herein lies the conundrum.  We desperately want to be seen, heard and cared about.  We want to feel safe, special, and understood.  But the truth is that the world does not revolve around us.  There are billions of people who want the same thing, just as much as we do.
We see the world through our own filter, thinking our perspective represents reality, when in fact it simply represents the culmination of all we have experienced.  Yet we are all, to some degree, limited in terms of our personal experience.  Thus we continue to look outside of ourselves for the answer to our fear of normal, human, existential discomfort.
Because we're human, we also tend to spend inordinate amounts of time trying to avoid what hurts us, and pursuing what gives us pleasure.  We all do it, on a never-ending search for what we should run away from vs what will give us pleasure.  Charlotte Joko Beck says:  "Underneath our nice, friendly facades there is great unease".
What's the solution?
Do we stop seeking pleasure?  Stop looking for enlightenment?  Stop looking for the house/car/outfit/partner/plastic surgery that will finally make us happy?
I think the solution is much simpler.  We do a 180 and turn our attention from outside to inside.
For a few moments we stop looking outside for something, anything, that will finally release us from this 'great unease'.
We turn from looking outside, asking "What am I going to get?" to looking inside, asking "What do I have to give?"
When I'm looking outside I will be judging/analyzing/obsessing about what I am getting.  I will be fixated on whether or not you are giving me what I think I want or need.  I will endlessly ask the question, "Is this something to run away from, or something I should try to hold on to?"  (Neither of which will work.  Running away from discomfort is impossible, and the moment I try to hold on to pleasure it slips away only to be replaced by discomfort.)
When I look inside often enough, I begin to see through the layers of conditioning and self-absorption to the reality that regardless of my history, regardless of my surroundings, deep inside me there is a wellspring of goodness, desire for connection, and willingness to offer what I have for the benefit of someone other than myself.
When I can stay connected to that awareness, that everything I'm seeking is an inside job, for one small moment, I am at peace.
Today I will again take a few moments to sit on the pillow or in a chair, and allow myself to gently, over and over, turn my attention around from outside to inside.  That shift in attention will happen many times over in one sit, because the siren call of the next external distraction that might take away my discomfort is powerful and persistent.
I will sit with the question:  "What do I have to give?", letting the question have its life, without desperately grasping for an answer.  While I sit, every time my thoughts wander to:  "What am I going to get?" I will gently, over and over, return to what matters most to me:  "What do I have to give?"
I suspect there are many answers, some of which may take me a lifetime to see.
Much love,