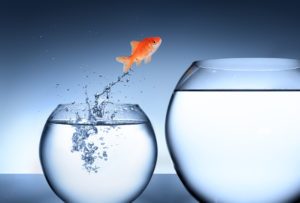 January 21, 2018
I've never met anyone – client, family member, or friend – who doesn't want to live vibrantly.  But sometimes we get stuck and we need to shake things up.
Change isn't always easy.  But after years of working with clients (and myself) around change, I know that it doesn't have to be as hard as we sometimes make it.
The most critical feature of lasting change is beginning from a place of clarity.
Here are three simple steps — pick/face/do (PFD) — to create clarity and move you through the process of change with as little discomfort as possible:
Pick a problem:  Pick something you've been avoiding or putting off because it's too big, too complicated, or too silly.  It sits in the back of your mind like an earworm – those annoying tunes that lodge themselves inside your head and repeat on an endless loop.
Face it:  Look it in the face.  Stand up to it.  Tell the truth about it.  Make a commitment to yourself that you will no longer let a feeling – anxiety, embarrassment, discomfort – deprive you of an opportunity to live more vibrantly.
Do it:  Identify one small step that will get you moving.  Make it as tiny, uncomplicated and do-able as possible.  That means you can complete it without adding two or three steps in between.
Easy to get side-tracked on number 3.  You realize there are a couple things you have to do before you can do the first step you picked. It starts to feel overwhelming.  You decide to think about it tomorrow.
Stop!  Take the identified problem and put it on a list entitled Problems I Want to Tackle.  (You can use the Notes App on your phone to maintain the problem list.)  Underneath the problem add the additional steps that you found.  Pick a new, tiny step 1.  It will replace the step you thought of first.
The idea is to find the tiniest first step that requires as little effort as possible..
Here's my story as an example of how it works:
Pick a problem:   I have a hard time calling myself a writer.  I want to find out if I am a writer.
Face it:  Of course I'm a writer.  The truth I've been avoiding is discovering whether or not I'm a good writer.  So now I would go back to step 1 and change my problem title to:  Finding out whether or not I'm a good writer
Do it:  My tiny, relatively effortless first step is committing to putting my blog posts on Medium (a platform for writers) for the next three months to see if I get any traction.  I already know how to post there, so this one's easy.  Last year I started posting a few of my blogs on Medium.  I chickened out and stopped because I didn't really understand how it worked and I didn't become an over-night success.
I addressed the potential problem of deciding on a first step by piggy backing and capitalizing on something I had already begun.  The posts were already written and published.  I just needed to repost them.
Consider forwarding this email to a friend, and ask them to be your buddy in facing one small change each of you wants to make.  You complete the PFD steps and choose a first small step.  Check in with each other at the end of each week.  When you've taken the first step, then pick a next step for the problem or pick a new problem.  I currently have a client who has been doing this for a few years with an out-of-state friend.  The believe they have achieved more together than they ever would have achieved on their own.
By the way, one small step, the tiniest step possible, isn't a new idea.  It's from the Japanese philosophy of Kaizen which embodies small steps to achieve big changes.  If you're interested, you can read about it here.
Much love,