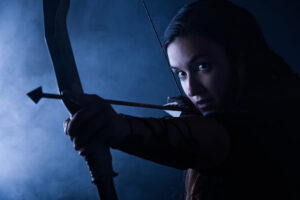 You know you've shot a second arrow.
May 2, 2021
Years ago, I came back from a ten-day retreat that felt life-changing.
I was overflowing and wanted to share it with a friend. After a few minutes, she said, in essence, that's nice, and began to share her troubles with a married man with whom she'd gotten involved.
We got through that coffee date. But I carried a resentment toward that friend for a long time. Unknowingly, each time we were together, I found myself looking for information to support that she wasn't a good friend. I was building a case in my head until one day, I told her and lost a friend.
That is an example of a reaction to an experience that was more painful than the experience itself.
She wasn't a terrible friend. In fact, she was a good friend. That day she had a listening problem of which she was completely unaware. If I had known then what I know now, I might have said, "Sweetheart, I know you have a lot going on, and I want to hear about it. Since we don't have a lot of time, when we get together again, I'd love to tell you about my retreat."
Instead, I built a case.
Shooting the Second Arrow
Buddhists call what I did shooting the second arrow. The first arrow is the actual pain, whether it's an insult, a physical mishap or illness, or the loss of a job, all of which cause original pain. Sometimes physical, sometimes material, but always emotional, if we're awake.
My experience is that when I deal gracefully with the original pain, I don't need, or want, to add another layer of discomfort by creating stories that project a horrible future.
I don't need to rail about being in pain, finding who's to blame, why they are horrible, and most devastating, how the situation will probably worsen!
Physical Pain
I have a back that sometimes causes a great deal of pain. When I deal with it, exercise, get in enough steps, and mindfully manage my body, it is workable, and I'm able to go about my life with confidence and vigor. Sometimes I rest. Sometimes I talk about it with someone. But I am learning not to make it worse.
When I'm in pain and am not mindful of my responsibility to manage it with compassion and care, I find myself telling stories about a future that scares the crap out of me.
"I don't want to be a burden." "What if I end up in a wheelchair?" "How will I continue to do the work I love?" " What if I can't bear the pain?" "What if people feel sorry for me?" That self-talk is shooting a second arrow.
Years of practice have taught me what to do when I get the first arrow. If I catch myself, which isn't always the case, I know to pause, breathe all the way out, and soften my body. I bring myself back to the present moment and soften around the pain, which is always bearable as long as I don't project that it will last forever.
Emotional Pain
The same is true for emotional pain. In today's world, someone is always saying something that offends someone. I have had interactions lasting only seconds or minutes before I've shot that second arrow. I carry the interaction with me like it's happening again and again. Every time I add to the story, my body releases the same stress hormones it released the first time.
When someone hurts my feelings, and I can remember not to release the second arrow, I pause, breathe all the way out, soften my body, and come back to myself. The pause allows me to see that the person who rolled their eyes at my comment has their own stuff going on. My business is to take care of my emotions. To move forward as the person I want to be, understanding that we're all stressed.
To the angry person, I can say, "I see that my comment bothered you. Please tell me more about your perspective so that I can better understand." Instead of rolling my eyes back at them (which I've done more times than I care to count), or leaving, or picking up their rope of anger, and then yanking it for good measure.
Don't get me wrong. Sometimes leaving is the only smart thing to do. But when it's someone who matters, who you want to keep in your life, having an alternative behavior at the ready can turn a disaster into something that might serve you both.
The Antidote
When you're in pain — any pain — pause, breathe all the way out, soften your body, and wait. Use the wait time to remember about the second arrow. That arrow will make things worse, not better.
I've never regretted pausing. I've many regrets from times when I didn't.
Life shoots plenty of arrows that create primary pain. Instead of shooting more arrows, we can use that energy to respond compassionately and thoughtfully in a world that at times seems to be on fire with anger and confusion, and fear.
Remember:
When the first arrow hits, pause, breathe all the way out, soften your body, and wait. Give yourself time to bring your inherent wisdom to the fore.
One arrow is enough.
Much love,