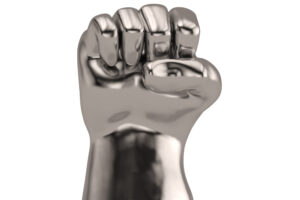 Loosen the Iron Grip You've had on Some of Your Thoughts.
January 24, 2021
Thoughts aren't a problem — until we assume our ideas and opinions represent facts.
THOUGHTS ARE NOT FACTS
Just because somebody doesn't wave back, it doesn't mean they hate us, or we suck. Maybe they didn't see us.
Professor Froehling taught one of the first classes in my master's program at Northeastern Illinois University. He made a big impression with his introduction on the first day of Psychology 101.
He said:
"If you learn nothing else from me, or this program, remember this. Challenge everything you believe, everything you think you know, and every idea you think is complete. I guarantee you, most of your thoughts aren't your thoughts. They're a combination of everyone else's thoughts. Hold them lightly."
Look out for beliefs to which you are very attached.
It's pretty easy to spot when we're overly attached to an idea or an opinion. When someone challenges a belief you hold, you get red in the face, or your body tenses up, ready to fight, flee, or freeze, you know there's an iron grip involved.
WE DON'T KNOW IT ALL
We never have complete knowledge of anything. We have everybody else's opinions and ideas. If we can learn to sift through them to find our truths, we may position ourselves to add more to society than we take from it.
There are no simple answers to complex problems, and there is almost always a bigger picture than any of us can see, regardless of how smart we think we are.
Let's challenge our thoughts by changing the dialogue from "Let me tell you how it is" to "Please tell me how you arrived at your perspective," or "What do you think?"
CURIOSITY
I think curiosity is an antidote to much of what separates us.
I am not a researcher, but my subjective experience is that when I'm interested and curious about others, I'm less stressed and more willing to deal with the uncomfortable feelings that come with challenging my thoughts in order to connect with someone and learn something new.
I see the same thing with my clients. When they allow themselves to be curious about something, rather than rigidly defensive, they begin to come alive in ways they haven't previously experienced.
Being open and receptive takes work, especially when we're very attached to an idea or belief. But recognizing the alternatives — knee-jerk reactivity, ignorance, unfounded biases, self-righteousness, impulsive decision-making, and even violence — makes the work more than worth it.
There's a group called Braver Angels that's doing amazing work in bringing groups with completely opposing beliefs together to learn from each other. Check them out.
Let's allow curiosity to soften our iron grip.
Much love,